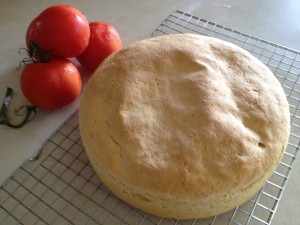 Would you believe my computer crashed some weeks ago and I lost my admin password? How about the dog ate my homework? No, really, I did lose my computer. Four words for you from my excruciating experience of losing two years' worth of work and pictures: Exterior hard drive, baby. And in the words of the old song: You don't know what you've got till it's gone.
You know how they talk about multi-tasking? I need to be able to live two 24 hours in one 24-hour period! Maybe for about a week.
Food adventures lately have including continuing work on O Cucina Portugueza, my Hawaii Portuguese cookbook, due to editor in two weeks. Been testing recipes at every turn. Last night, it was a marinated steak, herbed rice cakes, and pudim flan (an amazingly easy baked custard). That's my broa, Portuguese yeasted cornmeal bread, above. Gulp!
Had dinner at Alan Wong's Amasia in Wailea on Maui the other night — small plates only, lots of old Alan favorites plus much that's newer, an absolutely gorgeous maze of dimly lit rooms in an Asian mode (former Kacho at the Grand Wailea), much laughter with three talented chefs and some good foodie friends. Prices are very reasonable ($11-20 a plate for most things, though the whole crab will give you serious sticker shock — but the flavors will perk up your tongue as much as the price wilts your wallet). As a small, picky eater, I found it PERFECT. Just watch yourself; it's very easy to spend more than you want. The hard part is regretting it.
Toured a group of family farms on Maui and had lunch at O'o Farm in Kula, owned by James McDonald and partners: Visitors get a farm tour, a healthful and highly refined lunch and views that fill the eyes. I highly recommend this for an mid-day excursion if you're going to Maui. It's as close as you can get to visiting Napa without the long plane flight. It's online. While you're up there, visit Hashimoto Farm — it's persimmon season and their Maru explain why these fruit are so prized in Japan. (These aren't the prettiest fruit, but they're the sweetest, finest textured ones.)
Looking forward to a week on Maui this week and some promised amazing sushi with my food guide friend, Bonnie Friedman of Tour da Maui; if you've got non-local friends, or haven't been to the Isles in a while, her four-hour tours are so culturally rich and down-home local, nothing like most oh-we've-got-such-good-taste tours. Max four per tour; two or three is most comfortable. She's online, too.
I've got some recipes for you. Wait until you taste the Portuguese walnut bars, the aforementioned marinated steak and rice steaks. If you think Portuguese food is all soup and malassadas…I got ideas for you!
Come back. I promise not to be gone so long next time.