True confessions. I've never been to Punahou Carnival. And yet again, this year, I'm not going (got a cooking class coming up and story deadlines).
But today, I'm making Punahou Caramel Cuts, like penuche candy, only in cooking form. I love penuche candy (aka brown sugar fudge). It's my favorite candy, right up there with Turtles (caramel, pecan, milk chocolate). They used to come in pink and gold-striped boxes. Grandma used to buy them, we'd eat the candy and she'd keep the boxes for storage. Every time I'd see a box, I'd climb on a chair, pull it down, full of hope. No chocolates. Honolulu Chocolate Co. makes the best ones. I can eat a half-pound all by myself. (HUSBAND: Valentine's hint. Major. Red box. Big bow. Oh, hell, just gimme the chocolates in a plastic bag, I don't care.)
Back to Caramel Cuts. They were brought to Punahou by Minnie Marciel, who also created the Punahou malassada. I don't know if they sell the cuts at the carnival. The scent of the cuts is filling the house right now; they're five minutes from done. They look like the brownie variation called Blondies. I can't wait. I'm going to eat one while it's still warm. I've avoid this recipe for a long time because I'm not a great brownie-with-nuts fan. Big mistake, I think, based on the smells!
Here's the recipe:
Minnie Marciel's Caramel Cuts
1/2 cup butter
2 cups brown sugar (stir or sift to remove any lumps)
2 eggs
1 1/2 cups flour
2 teaspoons vanilla
2 teaspoons baking powder
1 cup chopped nuts (I used walnuts)
In a large saucepan, melt butter and blend in brown sugar. Remove from heat. Stir in eggs, vanilla, dry ingredients and nuts. Pour in prepared 8-by-8-inch baking dish. Bake at 325 degrees 40 minutes, until toothpick emerges mostly clean and top doesn't sink under the press of a gentle finger.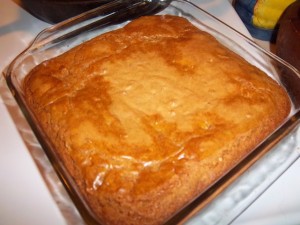 Eating one now…almost too hot to bite. Oooooooooh!